Beginners Matwork
Beginner classes are a great place to start if you are new to Pilates or if you are recovering after an injury. The classes offer a slightly slower pace to some of the more advanced classes but don't worry you still get all the benefits of a Pilates workout.
Our Physiotherapists will show different levels of each exercise so when you feel ready you can work a bit harder within the same class. It also means that you can challenge yourself on the exercises you find easier or work at a lower level if you need to. The small class sizes of up to 12,  make sure that we can give everyone the attention they need, giving  you the guidance to make sure that you are getting the most out of your Pilates practise.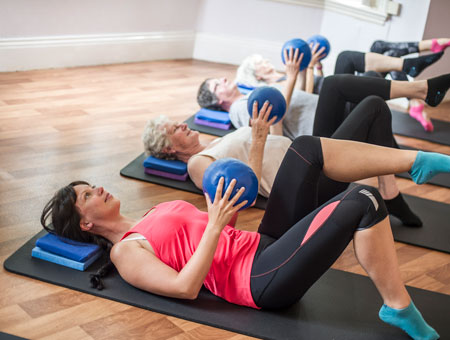 Small Equipment
We like to use some of the Pilates small equipment during the sessions to add an extra challenge but the use of equipment is always optional. It's not the same class every week either. Whilst we always keep these classes at beginner level, adding in different exercises not only makes the classes more enjoyable but means that you are constantly working on something new.
Please note the use of equipment will be in line with current covid guidelines and cleaned throughly between each class.
Beginners Exercises
Here are some Beginners Pilates exercises using the Pilates Magic Circle. These are designed for you to view sample exercises only and not for you to do at home. If you would like some exercises to do at home please subscribe to our videos where we will have mini classes coming soon.